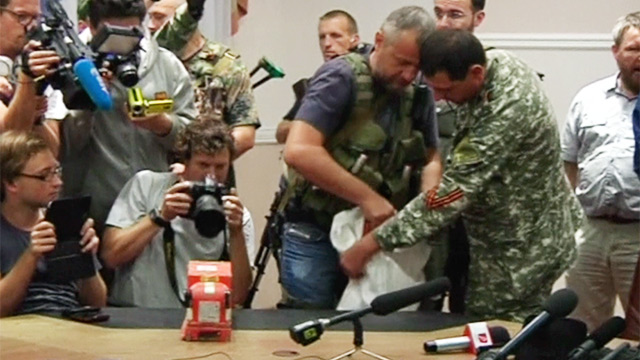 Pemimpin Barisan Pembebasan Kebangsaan Moro (MNLF) Nur Misuari terlibat dengan menggunakan kumpulan sendiri beberapa kumpulan lain dalam melakukan pencerobohan dan penculikan di Sabah, kata Menteri Dalam Negeri Datuk Seri Ahmad Zahid Hamidi.

Beliau berkata, kegiatan itu dilakukan dengan tujuan mengumpul dana bagi membentuk semula tentera upahan Nur Misuari selain bagi mengembalikan semula pengaruhnya di selatan Filipina.

Katanya umum mengetahui bahawa Nur Misuari tidak mendapat sokongan dan tidak dibabitkan dalam Perjanjian Komprehensif mengenai Bangsamoro (CAB) yang ditandatangani kerajaan Filipina dan Barisan Pembebasan Islam Moro (MILF) bagi membuka jalan ke arah penyelesaian politik di Mindanao pada Mac lepas.
Details

Written by

Administrator

Hits: 132
Read more: Pencerobohan Sabah: Nur Misuari terlibat - ZAHID HAMIDI
Penolong Setiausaha Publisiti DAP Kebangsaan Teo Nie Ching mendesak Peguam Umno Mohd Hafarizam Harun agar menarik balik kenyataannya serta meminta maaf kepada semua pihak, terutama golongan wanita.

Ia berikutan kenyataan yang dikeluarkan berhubung kelayakan Presiden Parti Keadilan Rakyat (PKR) Datuk Seri Wan Azizah Wan Ismail sebagai Menteri Besar (MB) Selangor, yang bersifat diskriminasi dan menghina wanita, katanya dalam satu kenyataan.

"Hafarizam perlu menarik balik kenyataannya, memohon maaf dan tutup sahaja mulutnya," katanya.
Details

Written by

Administrator

Hits: 222
Read more: 'Tarik balik, minta maaf dan tutup mulut!' – Teo Nie Ching kepada peguam UMNO Hafarizam
Those who think that something relevant to the loss of flight MH370 occurred in the unsecured electronics and electrical bay of the Malaysia Airlines 777-200ER located behind and below its cockpit will find support for their suspicions in the latest independent review of publicly released data.

The independents are now drawing attention to data that implies that the jet, with 239 people on board, flew in a circular or complex path for 52 minutes off  the northern tip of Sumatra before then flying an apparently straight course southwards for more than four hours before running out of fuel off the Indian Ocean coast of Western Australia.

That previously unrecognized period of 62 minutes of untraced flight begins with a 'strange' message from the ACARS computer on board MH370 to an Inmarsat satellite consistent with there having been a temporary interruption to normal electrical power on the jet.
Details

Written by

Administrator

Hits: 226
Read more: MH370 Suspicions of systems tampering strengthened by study
Selangor looks set to appoint Azmin Ali as the new Mentri Besar soon, replacing the embattled Tan Sri Khalid Ibrahim who has been pressured to relinquish his position.

Although PKR leader Datuk Seri Anwar Ibrahim has been reported saying there was no hurry to replace Khalid, a source close to Azmin said the transition would be done after Hari Raya.

"The appointment will after all be made after Hari Raya," said the source Tuesday.
Details

Written by

Administrator

Hits: 215
Perdana Menteri, Datuk Seri Najib Tun Razak berkata, pasukan keselamatan perlu mengemukakan prosedur operasi standard (SOP) "shoot on sight" atau 'tembak apabila nampak' lebih jelas terhadap kumpulan bersenjata yang menceroboh perairan negara untuk kelulusan kerajaan sebelum melaksanakannya.

Merujuk kepada insiden serang hendap di Pulau Mabul, Sabah pada Sabtu malam serta saranan Panglima Tentera Laut Tan Sri Abdul Aziz Jaafar supaya pasukan keselamatan diberi kebenaran "shoot on sight", Najib menegaskan kerajaan berpendirian bahawa tindakan tegas adalah perlu dalam insiden sedemikian namun SOP perlu jelas supaya tidak berlaku perkara yang tidak diingini.

Katanya kerajaan mahu SOP dan garis panduan yang lebih jelas supaya tiada interpretasi yang berbeza-beza.
Details

Written by

Administrator

Hits: 205
Read more: Kemuka SOP 'shoot on sight' lebih jelas. TERRORIST di perairan Sabah.