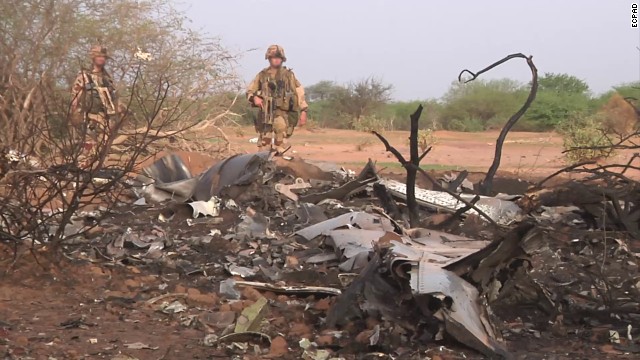 French forces who secured the site of a crashed Air Algerie flight in Mali found one flight recorder but no survivors, French President Francoise Hollande said Friday.

Wreckage of the jet was found in a "disintegrated state" in Mali, he said, making it the third major international aviation disaster in recent days.

"Regrettably, there were no survivors. I share the pain of the families, who are going through terrible hardship," he said.
Details

Written by

Administrator

Hits: 209
Read more: 'Disintegrated' Air Algerie plane found with no survivors; 'black box' recovered
Seven Sarawak United People's Party (SUPP) members, including three assemblymen, have decided not to continue a case that would have rendered the party liable to be de-registered.

In an unexpected twist of events, the seven withdrew their judicial review application challenging the validity of the decision of the Registrar of Societies (RoS) not to de-register the party.

High Court (Appellate and Special Powers) judge Justice Zaleha Yusof allowed the withdrawal of the application after meeting the parties in chambers yesterday.
Details

Written by

Administrator

Hits: 202
Parti Rakyat Bersatu Sarawak (SUPP) menyifatkan langkah tujuh bekas anggotanya menarik balik permohonan bagi semakan kehakiman keputusan Pendaftar Pertubuhan (ROS) tidak membatalkan pendaftaran parti itu sebagai membalas dendam.
   
Setiausaha Agungnya, Datuk Dr Sim Kui Hian dalam kenyataan malam tadi berkata, langkah itu tidak mengejutkan dan mereka tidak yakin dengan alasan yang diberikan oleh bekas ahli parti itu untuk mengambil langkah seperti itu.
   
"Kami dengan ini tidak terkejut bahawa ketujuh-tujuh mereka membuat keputusan untuk menarik balik tindakan mahkamah.
Details

Written by

Administrator

Hits: 138
Berikut sidang media dan soal jawab Presiden PAS, Datuk Seri Tuan Guru Abdul Hadi Awang bersama pihak media di kediamannya Rusila, Marang selepas kuliah pagi Jumaat, pagi tadi.

SAYA menyokong kenyataan Pesuruhjaya PAS Selangor, Iskandar Abdul Samad yang menegaskan supaya diteruskan jawatan Menteri Besar Selangor kepada Tan Sri Khalid Ibrahim. Berdasarkan kepada perlu diambil kira tentang rakyat Selangor dan Sultan Selangor itu sendiri. YB Iskandar adalah wakil PAS Pusat yang dilantik oleh PAS Pusat mengikut Perlembagaan untuk mengendalikan urusan PAS negeri Selangor.
Details

Written by

Administrator

Hits: 174
Read more: Saya sokong Khalid kekal MB - Presiden PAS Hadi Awang
The High Court here has granted leave for a mandamus order filed by kindergarten teacher M. Indira Gandhi to compel Inspector-General of Police Tan Sri Khalid Abu Bakar to obey a court order to arrest her Muslim convert ex-husband, and to help her find her youngest child.

Justice Lee Swee Seng also gave leave to prohibit or restrain any Syariah court order from being carried out. He set Sept 12 for the inter parte hearing.

On May 30, Justice Lee issued a warrant of arrest against Mohd Ridzuan Abdullah for contempt of court after he repeatedly failed to hand over six-year-old Prasana Diksa to her mother.
Details

Written by

Administrator

Hits: 201
Read more: Kindergarten teacher given leave to take top cop to court. A test case to 1Malaysia